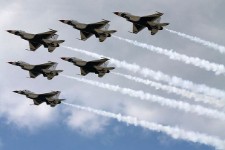 We are so excited about this event! WRJC has been asked to join in the air show at Robins Air Force Base this year! The event will take place at the Museum of Aviation beginning Saturday, September 28, through Sunday September 29. The hours will be 9 a.m. to 5 p.m. each day.
We will need volunteers to leave their Jeeps parked here for the entire weekend. We will move the Jeeps in Friday, September 27, after 5 p.m. We will not be able to move our Jeeps in and out of the event. They can be picked up after the event on Sunday.
We will also need volunteers to man our tent, hand out info on our club, and talk with people interested in WRJC. If you want to be a part of this event, please let one of our council members know or send us a message through the website. Hope to see you there!