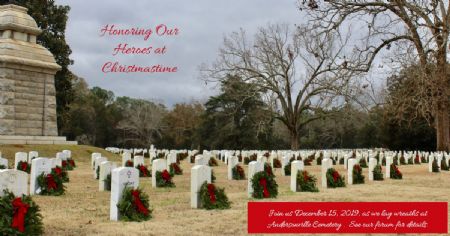 Sunday, December 15, 2019
Time: 9:00 AM
Location: Andersonville National Cemetery
Warner Robins Jeep Club
Warner Robins Jeep Club joins Rolling Thunder in laying wreaths on the headstones at Andersonville National Cemetery. Please join us in honoring our heroes this Christmas. We will set up a meeting time and place soon and post the details on our forum.
To access our forum, please see the top menu bar on our home page and choose FORUM. You may then sign up for an account if you have not already. Once you're approved, you will be able to see all the behind-the-scenes conversations going on concerning our events and other things.